22 Apr

B2B Social Example: Ridgid Tools

Question of the hour above the normal B2B e-commerce questions
How are B2B companies using social?  Not just how to use Twitter or LinkedIN, but how B2B organizations are actually using Social with their customers
A great example is found amongst professional plumbers and contractors.  Ridgid Tool uses tools that have been around for a while, but has an unbelievable strong and social community, and has been doing it for a long time.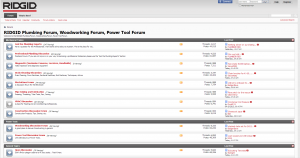 RidgidForums.com is the site which is primarily and obviously a forum that provides contractors, plumbers and other tradesmen a community to ask questions about their trade and the tools of their trade.  For the most part, it is an unmoderated community untouched by Ridgid employees.  When you go the site, there are thousands of posts created by approximately 37,200 registered (as reported here).  That is a lot of registered users – especially since most forums are only participated by the few (80/20 rule).  From what I can see using the advanced search, there are approximately 75 – 100 posts per week.  Alexa reports 900 visitors per day.
While the forum content is left alone, you also tell that Ridgid is able to use the site to gather data and feedback as well as communicate new information and even test product ideas.
So, while I know forums can be seen as old school, this community is anything but.  It is everything you want in a community without the bells and whistles.  An open dialogue, customer engagement, interactive, customer generated content, it's got everything but wall posts and retweets.  And it is B2B through and through with very little fan fare.  I love it.
The highlights:
37,200 registered users
45,000+ posts
900 visitors per day
FANTASTIC CUSTOMER ENGAGEMENT
This slideshow requires JavaScript.