10 Apr

Interview with Cris Young from Hudson Fasteners/1 Industrial Way
I sat down to talk with Cris Young of Hudson Fasteners/1 Industrial Way. The Executive Vice President of this Ohio-based fastener distribution company, we talked about her digital-focused approach to doing business. The following is an excerpt of that conversation:
Justin:
I'd just love to hear a little bit more about you and Hudson for a few minutes.
Cris:
Okay. I'll start with me, that's basically how I started. My name is Cris Young. I'm the Executive Vice president of Hudson Fasteners/1 Industrial Way. I'm originally from Boston and I'm a huge Boston sports fan. I have two beautiful children, John and Jen. I've spent many years in industrial supply. I've worked for Fortune 500 companies as well as small businesses.
I'm also a small business advocate. I sit on the board of the United States Women's Chamber of Commerce. I'm to co-chair of the Women in Manufacturing – the Ohio Chapter. I like to help local small businesses get into social media. That's the background on me.
As far as Hudson Fasteners, our company spans 80 years and 3 generations. Hudson Fasteners was founded in New York City in 1946 by my partner's grandfather who was introduced to the business by his brother in law which was Brooklyn Nuts and Bolts. That was founded in 1936, so we've been in the business for a while now.
Both Lisa [Kleinhandler, President/CEO at Hudson Fasteners, Inc.] and I came into the business when we were still a traditional brick and mortar distributor with headquarters in Long Island, New York. We maintained a large warehouse, floor to ceiling racks with palettes of screws, nuts and bolts; doing business the way father and grandfather had always done it with a fully stocked warehouse. When I came to work here, we were actually doing our inventory on a drawer-card system with pencils. That's the way it was back then.
It wasn't until I joined the company that we began a digital transformation. Fast forward to today, our business is a portfolio company at the Youngstown Business Incubator, a technology incubator located in Youngstown, Ohio. This area is known as a steel valley it has a rich history in manufacturing and it is located in the heart of the fastener industry. So, we took our brick and mortar fastener distribution business and launched it into an industrial network of websites which we call One Industrial Way. This business model mimics the industrial supply catalog but it represents them in a 21st century digital format. So customers are now able to shop many niche sites with one shopping cart checkout.
Justin:
Wow, that's pretty amazing. What has changed in your business, in the fastener industry for the past 10 years?
Cris:
That's a two-part question because in some ways the industry has changed incredibly. It's not just the industry, it's all industries have changed. You can't keep up with technology. It's in every day, every minute, every second thing and you have to pay attention or you're out. Specifically for my industry, we're traditional brick and mortar: nuts, bolts, and screws. They don't want to change based on who they are personally.
You have older folks running the company and they don't want to change. "This is the way we've been doing business and we've been getting by for so many years." Then you have the younger kids coming up saying, "Dad, grandpa, we need to do something different otherwise I can't see how we're going to maintain this." Again, two parts, it's changed a lot but that's what surrounds us. Specifically, for the fastener industry, we're kind of stuck. I'm doing my very best to change that.
Justin:
How does this move from brick and mortar to online change you as a leader? I'm curious to hear. A lot of our customers struggle with how to manage this new era as a leader. How has your day-to-day changed?
Cris:
Typically, 15-20 years ago I was worried about the normal things. Showing up for work, doing a good job, send appropriate products for the customers. Regular, normal, everyday issues. Now, you not only have to focus on those things but you have to be conscious of everything that everybody else out there is doing technology-wise. It's not just in your industry. You have to be mindful of all of the new advancements being made in other industries and how it affects you.
For instance, 3D printing added as manufacturing. Are they able to be going to produce the product I sell in mega quantities really fast? In today's technology, no, but 10-15 years from now it can be a different story. While people think that 3D manufacturing does not affect them today, tomorrow is going to be a whole different story so you have to be paying attention. I'd say the biggest thing you need to be focused on is: what else is going on out there? And it might not include your industry.
Justin:
Okay. Excellent. I'm curious on your social media side. Everybody in your industry would say: "What's the Return on Investment? What's the ROI?" How do you guys view the value of social media? It seems like such a huge driver of the business. What's the value of it to the actual business itself and how do you measure some of that ROI?
Cris:
That's a good question. That's a really tough one. We are in the process of trying to monetize that aspect of our business right now. Slower than we had anticipated but again, I'm in a traditional brick and mortar business that doesn't want to change. We are encouraging them, we are educating them, and we are pulling them out of their shells. This is really going to kick in when all of the older folks retire and the new workforce comes in. The new workforce doesn't know anything about these old catalogs. You can have a six-inch catalog on your desk and I don't think a millennial has picked it up ever since they started working in your company. They don't do business that way.
As soon as the new workforce is in charge, you're going to see huge changes. We are I think, 5-10 years from that, at least in my industry. I definitely think that when you see the new workforce come in and takes hold, change things, that's when the real Return on Investment comes in. We're putting our mark out there, we're getting customers, and people familiar with us. We're establishing ourselves as an industry expert, expecting to see a benefit, maybe not today but it's going to happen. We're going to be there.
Justin:
That's really cool. Branding, social media, marketing, in general in industrial distributors are a second thought most of the time. It's the forefront for you guys which is pretty cool. What are some of the things that you wish you would've known two years ago?
Cris:
The biggest one for me is that the new workforce has no intention of staying at their job for more than two to three years. When I have to hire people for social media, I'm training them based on how I was trained for a position. You come in, do your job, work really hard at it, your company takes what you do and grows from it. Then you grow from it. I don't think that the workforce for today is geared on that same trajectory. For whatever reason, they see things differently and they want to do along. They accomplish their goal at your company and they move along.
We have to learn to re-train our employees knowing that. Employee transition is a huge cost to a company, so if you're training 3-4 people to do inside sales, and you're training them to eventually take over. However, they're thinking of making money, putting on a great resume to move on to the next job. Today's leaders and executives has to have that in mind. For me, that was a huge wake-up call. Business is going to change no matter what you do but that was a big one for me.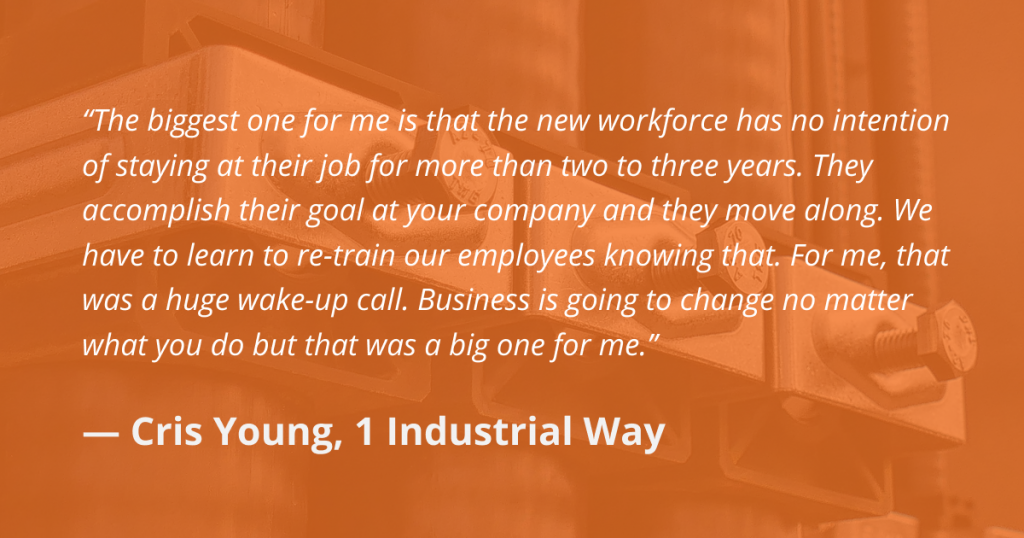 Justin:
Yeah, especially in the brick and mortar side when we have employees who've been with us for 20 to 25 years, we have customers that have been with us for that long. How have you guys remained competitive in your business and online?
Cris:
I think you have to be visionaries. You have to see things and pay attention to what's going on out there and are willing to take risks. Had we stayed the way we wanted to as a small distribution company on Long Island, New York, we'd be out of business. You have to take risks and get out there, change, pay attention. You have to do homework on your competitors and watch what they're doing. Copy them sometimes if that's what you have to do. You have to be willing to grow. Doing nothing will not keep you in business.
Justin:
Change is so difficult, isn't it? We're always surprised in our business that while we talk about eCommerce and digital, what we do the most of is how to change management. Organizational and management are the two biggest things we do. Change is incredibly different but you have to take risks. I'm just curious on your advice to a CEO that's listening to this. Any advice to them about how to manage those risks and manage the people within the company?
Cris:
As far as the workforce is concerned, just realize that they are not the same workforce that you hired 20 years ago. That will help you greatly as far as understanding that. Having somebody that's younger in that position to handle that will really help you. You can't be afraid to take risks. There are plenty of times over the past 5-10 years that we've been told no. That things we have tried have failed, but you know what, we get up every day and say, "what can we do differently to make it work?"
You have to be willing to look at things and realize that change is coming, and change isn't necessarily bad. Look at things with an open mind and gather the best talent that you can possibly gather to help you out throughout these decisions and the implementation of any of these changes. Then go from there. You can't think that everything is going to be roses every single day in business. It's not just going to be like that especially with the world the way it is. It used to be a small distributor had nothing to do with what happened in the other side of the world. In today's environment, what happens overseas can directly affect you. Stay educated, don't be afraid to hear no and have something sail on you. Get up, dust yourself and try again.
Justin:
Do you have any goals in the next 12 months that we can talk about?
Cris:
I can tell you right up that we expect all of our businesses to be online, 100%. The reasons for that being, the workforce is changing, companies are eliminating personnel, and that's going to cause more of them to look online. Mobile purchasing and eCommerce has been improving every year. We're expecting that to be a huge part of our business. We know based on our competition are already doing 60 to 80 percent of their business online. These figures are backed up by their annual reports. If they're saying it, then I'm counting on it.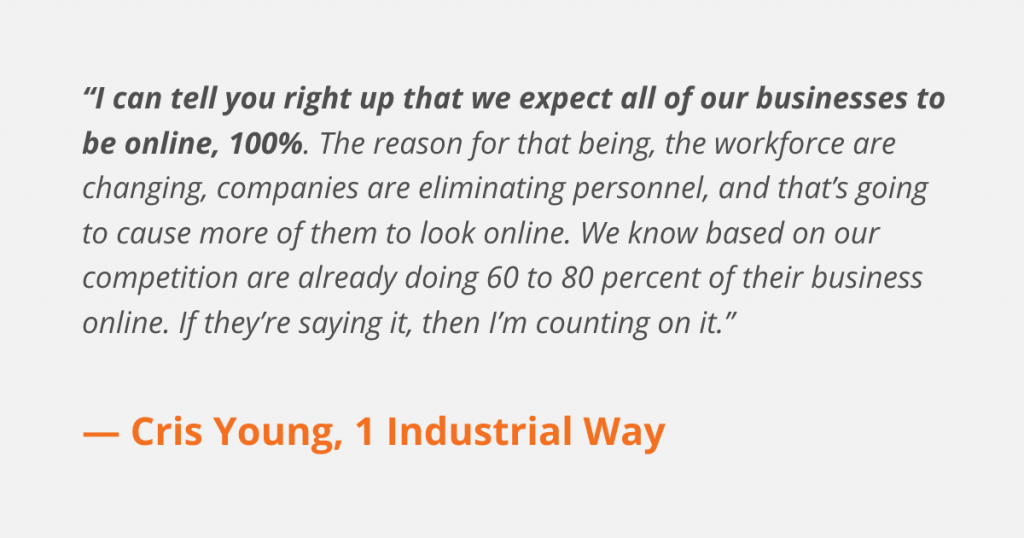 Justin:
I think we're saying that trend. This takes time though. For the distributor that's just starting out, what's your recommendation? This wasn't something you've dealt with in 30 days. It's taken a lot of time, energy, and testing to get there. How does someone even go from not having anything today, to doing something in the future?
Cris:
Well the first thing you have to do, is get off your butt and do something about it. Seriously, we went to a trade show in October and I want to say, I'm willing to bet that 50-60% of the people I met out there are not online. That's an issue for them. I'd love to see them online in some respects which will help me out and we welcome the challenge. The first thing they need to do is to get online. If you don't get online, you're out. We see it in the industry now.
Last year, there were 60 mergers and acquisitions. The fastener industry is not that big that you expect a lot of them to survive. Either you go out of business or try to go through with this change and make yourself be known. You've got do that. There's a lot of things you have to do, it's not just about sales, it's also about technology, social presence, and there's a lot of factors that go into it. You need to decide as a company leader if you want to do it in-house or to outsource it. It will take a bit of time but the most important thing is to not sit there and do nothing. You have to do something about it. It's your company and your employees. They all depend on it, so move. It reminds me of a Christmas cartoon that the kids used to watch, "put one foot in front of the other and soon you'll be walking out the door".

Justin:
I think that's a great way to end it. Cris thank you for being here. We really appreciate it. What you've done is pretty incredible.
Cris:
Awesome. Thank you very much, Justin. I also want to say that you've been doing a great job. I watched you for the past few years. What you're doing is great for industries in general. People should take note and pay attention. Thank you for what you do as well.