29 Apr

Electrical Distributors Still Don't Meet Basic Customer Expectations
hybris recently published an audit and report on 200 of the top Electrical Distributors.  Best quote of the report:
84 websites invited customers to contact the
company to place an order with forms via fax
(rather than by email or online)
I actually am not making fun of anyone – this just confirms that there is a huge spectrum of companies and customers out there.  I know for a fact that the fax is still a key order entry application for many companies.  Just funny to see it in writing that's all.
Industrial Distribution magazine had a pretty good summary of the report.
The fact is that with all the talk about customer experience and even customer expectations, many of us are still not providing even the most basic of experiences for our customers.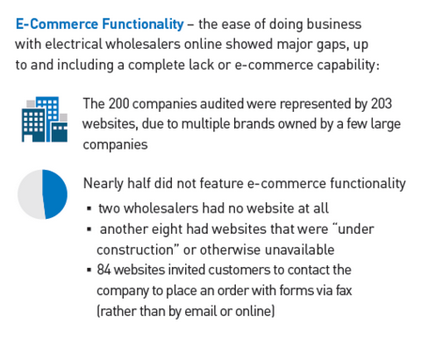 While, electrical products are even more complex than normal products, the report showed that most sites did not provide basic search capabilities like searching by product attributes such as size, brand or price, (let alone the more complex attributes) and half failed to inform customers about secure checkout processes.
However, Modern Distribution Magazine (mdm.com) reports that "the number of distributors whose e-commerce revenue comprises 5 percent to 10 percent of total revenue has grown 50 percent from last year. The number of distributors with 10 percent to 20 percent of revenue or with 30 percent to 40 percent of revenue coming from e-commerce has doubled."
I don't think that this gap really is taking anyone by surprise.  However, if you are seeing these same gaps within your organization, you don't necessarily need to jump right to providing full e-commerce capabilities.  When looking at customer expectations, you will find that customers struggle with finding information from Google to your site.  Customers spend 70% of their time on your web site looking for information, so start with Search, Navigation and Data Quality.   Most of the time, you can build a significant ROI by improving just 3 areas.
Past that, here are some Best Practices that I continue to update.
If selecting a platform, here are some starting best practices for selecting a platform.
IMAGE SOURCE: http://www.guardian.co.uk/technology/shortcuts/2012/nov/20/last-british-made-typewriter