21 Jun

Your on-site search sucks; this is why you should fix it
Sixty percent of B2B buyers listed [onsite search] as one of their top three features, with 48% of B2B sellers citing enhanced search as a top technology priority.
– Accenture Report: Building the B2B OmniChannel Commerce Platform Of The Future B2B Buyer Expectations Are Driving Sellers To Deliver Fully Functional Omni-Channel Experiences
There is a simple way to improve a company's B2B eCommerce site. I think we can get wrapped into statistics and numbers so let me say it simply:
Your on-site search sucks.  
Fix it.  It will dramatically improve your customers' experience.
Why is search important?
If you have more than a couple hundred SKUs, how do you expect a customer to find their product?  Using navigation by itself takes five to six clicks at best.  We have become a search culture, and a culture that expects good search results.  B2B is no different.  From Amazon to Grainger, the search box is the most used feature.  And you know from your own experience how frustrating it is to use a search box and get bad results.
Most people have had a bad search experience at work or home. The infamous "zero results found" or irrelevant search results are guaranteed to frustrate even the most patient user. A few minutes or even seconds of that experience is enough. So, they leave.
For most companies having a search box that sucks will drive customers away and those customers, once gone, are not likely to return. Changing your thought process and best practices to being dialed in on making the customer's search experience a painless, accurate, and efficient event will keep your customer attrition rates low and your returning customer rates high.
Search Cost Theory
Let me get technical and theoretical for a minute. The lack of good on-site search is costing most B2B businesses. […]In economic theory, transaction costs are a broad concept encompassing the aggregate internal and external effort required to make a transaction in the marketplace.  Classically speaking, it consists of
search and information costs
bargaining and decision costs
policing and enforcement costs
These costs are much more expansive then accounting forms of transaction costs (landed costs, overhead cost per order, etc).  And these costs occur on both the buy and sell side.
In B2B, the area of biggest impact from eCommerce is the ability to dramatically lower search and information costs. […]
The above statements are from a brilliant article by Brian Carpizo at Orchid Digital (he graciously allowed me to reprint).
Search and Information Costs are as Wikipedia states one facet of transaction costs or switching costs. Rational customers will continue to search for a better product or service until the marginal cost of searching exceeds the marginal benefit.
While Brian focused on product relationships in his article, I think it makes sense to focus on the dysfunction of plain old on-site search.  If the majority of time on the internet is spent in the process of finding information, then we should focus our efforts on making "finding" easier.
How Search Has Evolved
Let's begin by talking about B2C because on-site search started in Retail. Check out Amazon.com from 2001.  I used archive.org to grab the image below.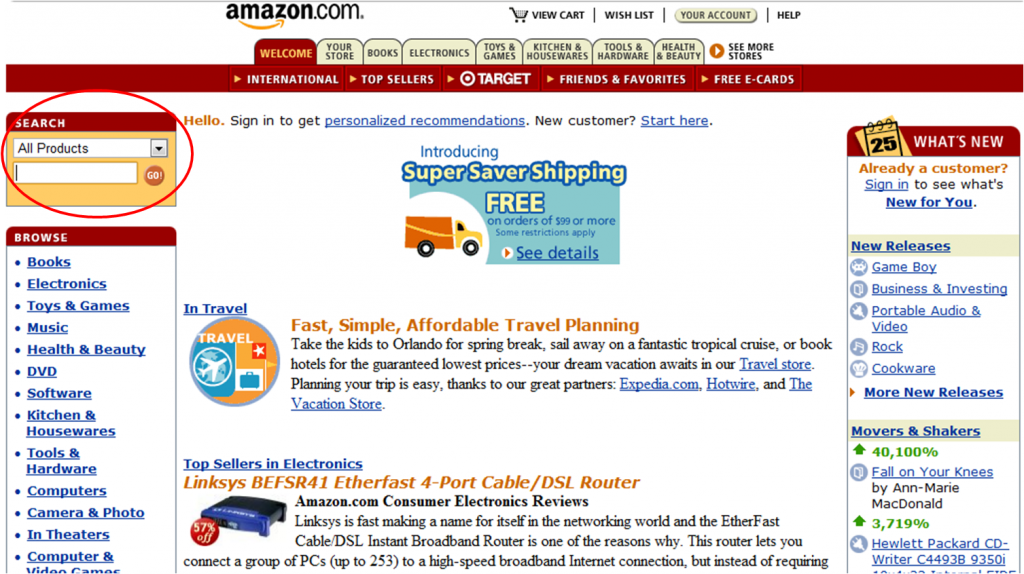 The search box is only big enough for a maximum of two words!  Why?  Amazon didn't trust their search box and neither did the customers.  Search has come a long way.


Today, Amazon's search box is front and center.  We trust it.  When we use it, we get fantastic, relevant results.  We find exactly what we looked for.  Did you know that Amazon gets something outside of providing a great customer experience?  They get data.  Lots of data.
They get to understand how people search and the terms they use to find what they search for.  Amazon learns what converts and what doesn't. Then they funnel all of that learning back into the customer experience to make it better.
Search is important.
On-Site Search Today
When a B2B user visits a B2B company's site, it is very hard to know what problem the user is trying to solve, or what they are looking for.  Even if the problem was known, it is unlikely to know how the user wants to solve that problem. What information do they have in front of them? Do they have brand, product name, part number, competitor part number, or just generic attributes?  You just don't know.  Search allows the B2B user to find what they are looking for the way they want to find it.  On-site search is now a standard among websites.  But it is not always a good experience.  Let's look at what on-site search should look like.
Search results should be a merchandising opportunity instead of just providing text-based search results.  Take a look at MSCDirect.com.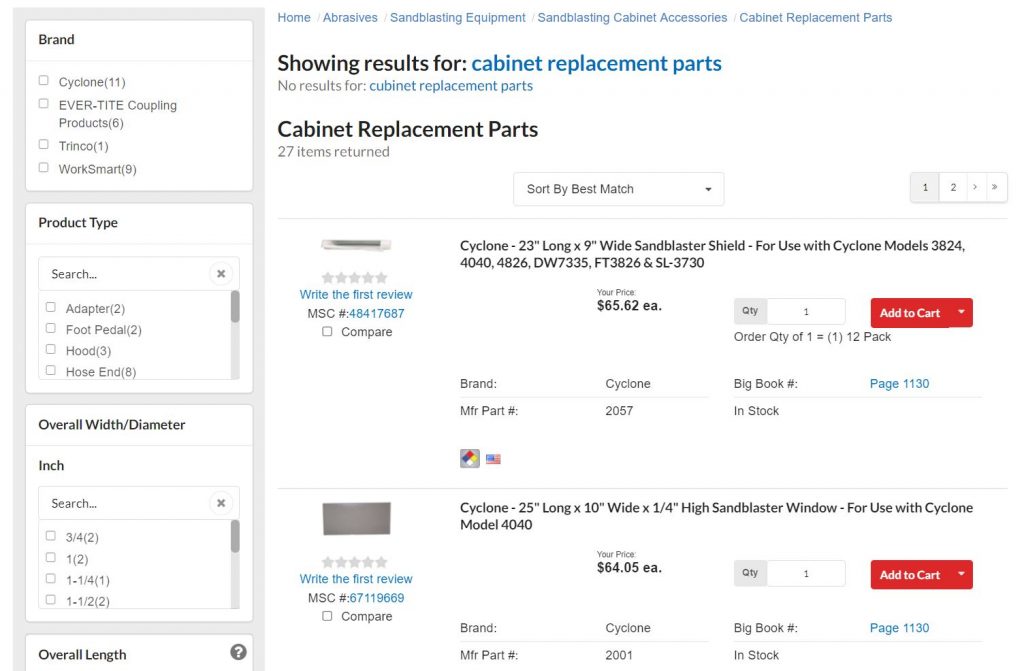 A few observations:
Search results, categories and products are all image and content based.
Automatic spell check – "No results for cubinet replacement parts" "Showing results for cabinet replacement "
Navigation on the left side is extremely detailed with rich attributes
Search and navigation are
To that last point, when B2B users come to a B2B site and execute a search, they typically refine the results with navigation.  They search then navigate. They navigate then search. Search and navigation go hand in hand.
Beyond Plain Search
Best in class companies are using on-site search as their primary way of serving customers with all kinds of content and commerce data and rules. A great example is Lowe's. Lowe's uses Type Ahead to combine content.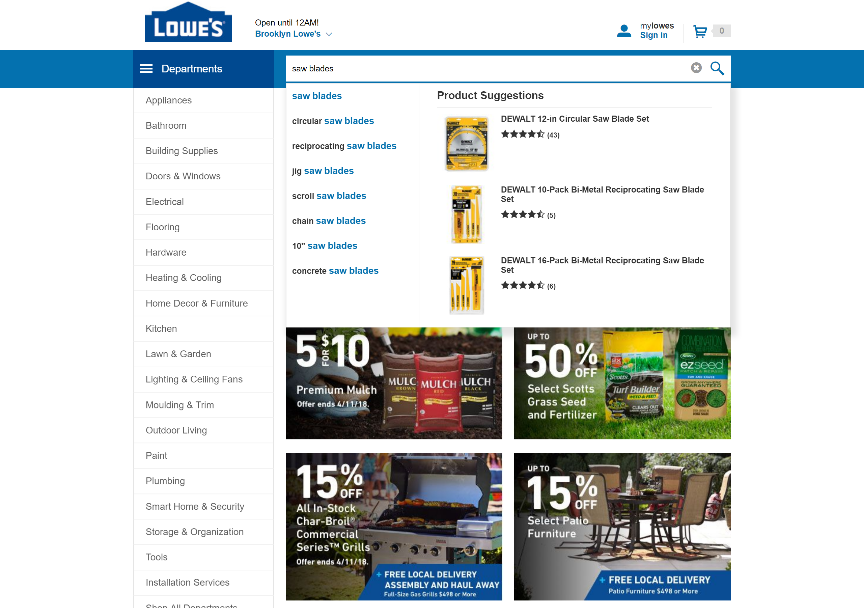 As you mouse over, the results change – all within typeahead.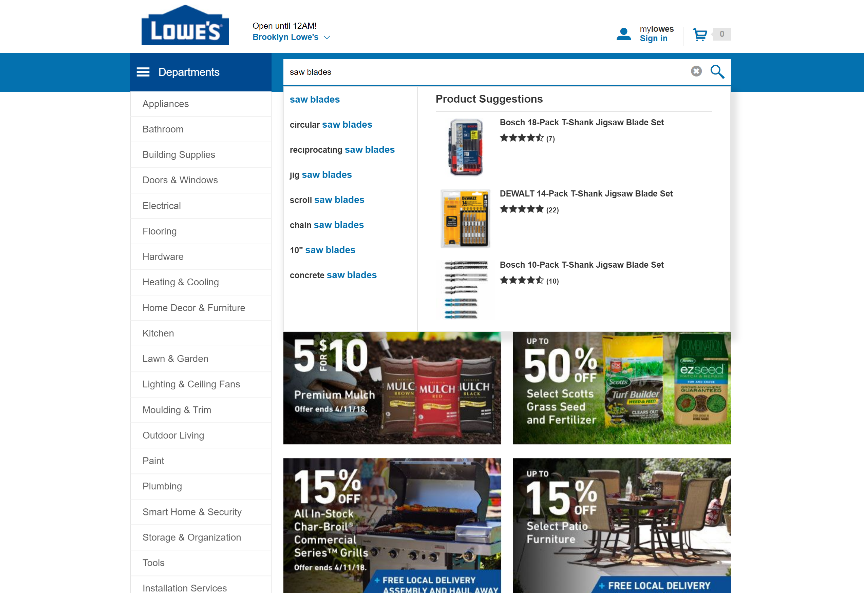 When a user types into the search box, type ahead becomes a mega menu box.
Type-ahead gives customer clues about what terms yield the best results
The category taxonomy is exposed – "in circular saw blades" "in saw blades"
Merchandising with top results "top results for"
Lots of content is combined.  Product details, images, category information, buying guides, video, multimedia, project guides
Once a search is executed, the experience highlights the results and navigation. See the screenshot below.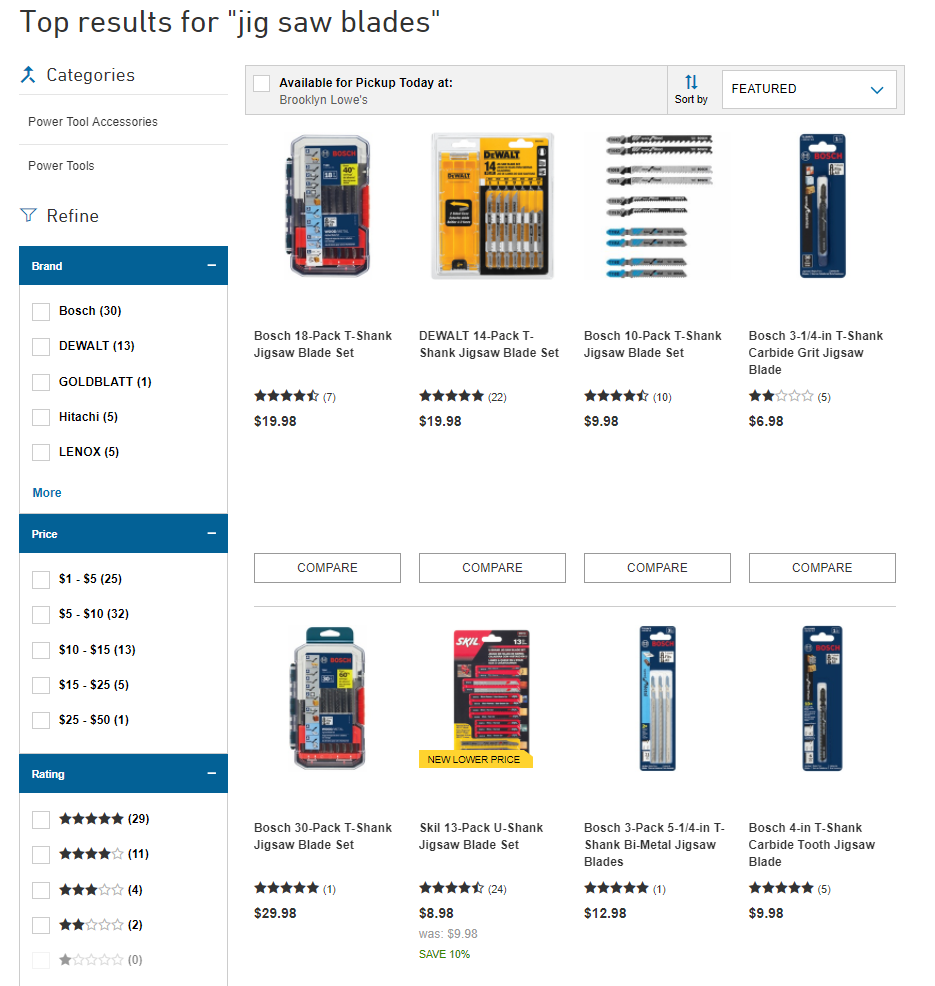 The above search results for Lowes.com shows specific product information, clear imagery, pricing, review information. There are also multiple ways of filtering – navigation, attributes, and multiple drop downs. A customer can even filter by available for pickup at a local branch location.
B2B On-Site Search
For B2B, the on-site search is even more important.  A B2B company's products are typically complex with lots of detail, specifications, attributes, and variants.  There may be lots and lots of products (hundreds of thousands or even millions).  Most B2B users want their search to include:
Context – search should be personalized by who the user is (industry, company, role)
Contract – what products they can buy and agreed upon price
Warehouse inventory
Manufacturer part number
Competitor cross reference
Part number matching (strip out special characters)
Automated spell check
Past orders – search and filter based on what the user has purchased in the past
That brings us full circle to MultiChannel Merchant
When asked to cite the top features or functions they would most like from suppliers in the selling process, most business buyers chose enhanced search functionality on their website (60%)
That's why the best of the B2B eCommerce companies have focused on on-site search.
Your Data Matters
Good search is based on good data. Make product data and content a priority within your organization. Progress over perfection. That means you should just keep working at building better and better data.
On-Site Search is a Program (not a Project)
Optimizing your search box is not a project, it is a program that improves month over month. It is ongoing work that will be critical to improving your site's user experience. Implement analytics that tell you how your customers are using the search box and what results they are seeing, and then optimize the search box and results every single month.
On-site search matters.
Search is important in B2B.
---
Podcast Episode: Your Search Box Sucks and How to Fix It
In this podcast, I jump right into the topic of "Your Search Box Sucks," along with how Amazon does it so right and why most distributors' search box doesn't perform optimally. Implementing some basic improvements will help you mirror their success, and will pay dividends for your customer experience – and your business. On-site search is a program, not a one-time project. It's an ongoing effort to optimize for personalization, spelling, good search results, inventory, and past order history.
---