05 Nov

Struggling with Bad Product Data
B2B Companies and Product Data
According to a recent Ventana research study, over 80% of companies are not confident in their product data
Standardization
75% said they had difficulties agreeing on standardization for their data, let alone fixing the actual data itself.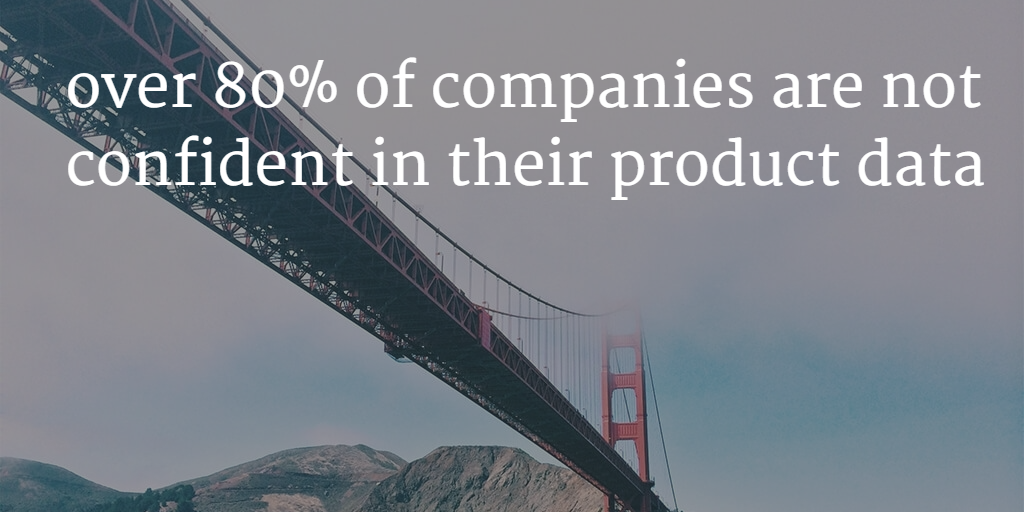 Bad Data is a Normal Problem
At this moment, B2B users are using Google to search for solutions to their complex problems.  They are searching for products and solutions that you may provide.  Unfortunately, you don't know the problem potential customers are trying to solve, and even if you knew the problem, you wouldn't know how they want to find the information.  In other words, what data they have in front of them to find your products.  Are they looking for a particular part number, or are they looking for products that match a specification?  They are looking for your product data.
If you think your product data is inadequate, you are not alone.  Over the past two years, I can count on only one hand the customers that have said their product data is not a problem.  Many retailers can purchase quality product data from data aggregators.  In B2B, we have unique, sophisticated products with complex attributes, which only we can describe.
Bad data is normal.  But normal sucks.  While it is true, you are not alone, Mr. Buyer was still looking for your solutions and couldn't find them.  And that sucks.
What to do with Bad Product Data?
Some choose one of two extreme routes:
Ignore or give up on your bad data.  You will stay normal.  Don't stay normal.
Stop all of your other activities while you fix your bad data.  This is called analysis paralysis, and it takes forever.
With proper technology, you can make your bad data at least seem better.  You can supplement with data aggregators, offshore it, or insource it.  There are many options.  The most important thing,  is to put a plan together and make sure you have allotted plenty of time.
A recent B2B company who has hundreds of thousands of SKUs, fixed their most popular product category first.  That took them three months, and they figured out an excellent system.  Then they moved into other categories.  Another decided to put in business processes that assured that any newly developed products were pristine, and then they moved to their existing data.  Meanwhile, both of these companies still were operating successful B2B e-commerce sites.  Bad product data did not paralyze them.
The figure below represents a very simple roadmap.  Notice the green line highlighting that through all phases of the project,  data cleansing is continuous.  The Data Cleanse project has unique goals, objectives, resources, and project plan.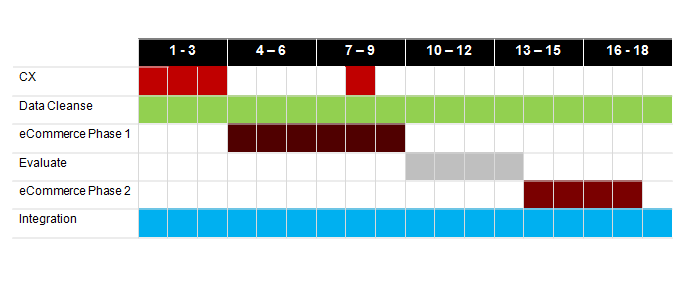 And where do you put all of this newly cleansed data?  Most B2B organizations have systems that store internal facing product data.  ERPs and Product Master Database often store cryptic data that only your sales and customer service reps can decipher.  The data is not ready for customer facing applications like your online experience.  E-Commerce consistently reminds us that we need to have solutions that provide more and more transparency into our back end systems, but that uncovers problems like cryptic data.
The Role of PIM or PCM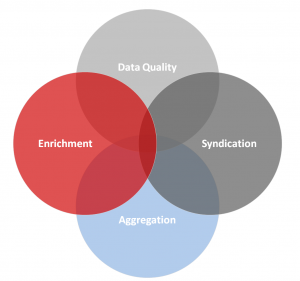 Enter PIM or PCM solutions for managing customer facing product content.  Product Information Management (PIM) and Product Content Management (PCM) systems have software that allow you to do four things:
Aggregate – collect and combine data from multiple data sources into a single source of Truth
Data quality – standardize data, attributes, and descriptions
Enrichment – add to the product (attributes, images, descriptions) to make customer facing
Syndication – push data out to channels, partners, and customers
PIM and PCM systems will not solve your data problems and processes, but they can help.
To understand which of these systems might be right for you, read The Difference Between PIM and PCM