18 Dec

The New B2B Ecosystem
E-commerce has a unique value proposition in B2B organizations. Of course, it is about customer acquisition, conversion, and average order value. But it also serves a bigger, long-term purpose.
Customers are in more control than ever before. With 43 percent of Americans reaching retirement age in the next eight years, the next generation of buyers is emerging. And B2B purchasers of all types want more online services and tools. As a result, we are witnessing the convergence of customer portals, marketing, social, service and shopping cart sites into e-commerce. E-commerce has become the digital conduit to your customers.  B2B companies that deliver an exceptional e-commerce customer experience offer more control and access to their back office.
In fact, most everything we have done today in B2B e-commerce has unknowingly been to move functions from the back office to the customer. E-commerce is no longer just commerce. It is not just shopping carts and transactions. It is the primary customer facing channel between customers and your back office.
The role of the ERP is certainly increasing. However, there is more to the back office than just ERP.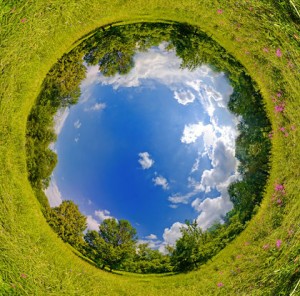 It Takes an Ecosystem
If it takes a village to raise a child, it takes an ecosystem to support a new customer facing channel. A traditional ecosystem is a community of organisms linked together with nutrients and energy flows. The B2B ecosystem is a community of systems connected together to deliver a user experience that adds value to your customers and helps them do their jobs easier. That includes:
Enterprise Resource Planning (ERP)
Configure, Price, and Quote (CPQ)
Customer Relationship Management (CRM)
Order Management System (OMS)
Product information management (PIM)
Commerce
Content Management System (CMS)
Experience management
Marketing automation
Social
Why is the B2B Ecosystem So Big?
Everything you know about your customers and products sits in your back office, including order history, spending patterns, customer segmentation, product information and contracts to name a few. You need all of that data to build an excellent customer experience. Great customer experiences increase conversion and revenue. Most importantly, great customer experiences make B2B users' job easier which yields loyalty. Loyal customers return to your site and will spend more.
Ecosystems are dynamic entities. They change. You will introduce new systems; upgrade some and deprecate others.
So How Do We Manage This Changing Ecosystem?
First, recognize the controlling factors. Ecosystems are controlled both by external and internal factors.
External factors include conditioned expectations that customers bring to your site from at-home purchasing. With more customer control comes a proliferation of devices and types of experiences they choose to use.
Internal factors include the complexity and readiness level of your ecosystem. I have a customer with more than 200 ERP systems as a result of multiple acquisitions. They are extremely sophisticated with various levels of readiness. Internal factors affect how fast an organization can move.
Next, start now and move quickly:
Begin with the basics: If the goal is to add value and help your customers do their jobs easier, you must deliver on the basics. Help them find information on your website, focus on building great product information and supporting content, and make transacting intuitive. Give your customers a few tools outside of the purchase path like viewing invoices, purchase orders, or punchout.
Make continuous improvements in your back office: The data you have in your back office may not be customer ready. Make it better bit by bit. Start planning the types of innovative services you might offer your customer in the future and put plans in place to ready your ecosystem for those future tools.
Separate form from function: Integration will become a dirty word at some point in your e-commerce project. If you rely on hardcore integration techniques whenever you introduce a new system or platform, your time to market will slow to a screeching halt. By separating out the experience from the content, data, rules and workflows, you can acquire new systems and data effortlessly. And your internal staff can quickly create new experiences for all kinds of devices and form factors.
Finally, remember an engaging customer experience is about adding value to B2B buyers. Visit them, interview them, watch them work and do prototype testing in a usability lab. Innovate on behalf of your customer and then tell me about it.
Originally posted on Steve Miranda's Oracle Apps Blog
Photo Credit: http://www.biologyreference.com/Dn-Ep/Ecosystem.html