01 Apr

The top Distributors are investing in their search box. Are you?
I have written and spoken many times on the value of the search box on a Distributors website.  The fact is that when I look at the analytics of most of my customers, the most used function or feature of their sites is almost always the search box.  Why?  Because your customers want to find what they are looking for as quickly as possible.  The search box has become a trusted agent – because of sites like Amazon and Grainger.
I have also written about how most distributors search boxes suck, and how frustrating it is for your customers to use your search box and not find the results they were expecting.
I wanted to see how the top distributors match up against my basic best practices for on-site search, so I spent a few months analyzing the search boxes of the top distributors in:
MRO
Electrical
Plumbing
HVAC
The results just scratch the surface, and there are a ton of insights to be gained.
BTW, if you want to download the report, download it here.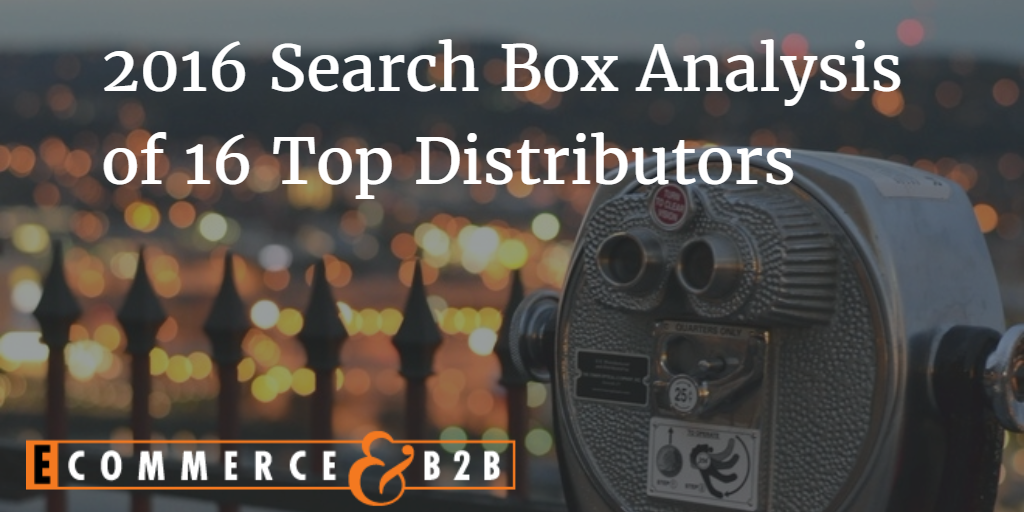 Summary of findings
"Most" of the top distributors have invested heavily into their search technology
88% of the level 1 tests yielded favorable and relevant results
75% provide little to no help on their "No results page"
81% struggled with mixed specifications like "inch" vs. "in."
The reality is that while most have obviously invested heavily, no one got an A+.  No one passed all of their tests in any category.  And that to me means there is a lot of opportunity for growth and improvement.
What should a mid-sized or small distributor do?
The reality is that, while the top distributors are investing heavily into their search, the search landscape has continued to change offering cheaper, better, integrated and more lightweight solutions.  My biggest advice to you is to first understand that search is critically important to your site.  Then start looking at ways to optimize your own search today.  Maybe that means improving product data, maybe it means looking at new technology.  Many distributors are looking to create a DigitalBranch instead of just a webstore.  Just start working on it immediately.